Some Changes
The Russellville Branch is now open!
Adairville and Auburn remain closed.
Items may still be placed on hold online by logging into your account online anytime or calling (270) 726-6129 for pickup in-house.
Hours
Monday – Friday, 1-5 PM
Saturday, 11 AM-2 PM.
Senior/at-risk hour
Saturday from 10-11 AM is reserved for senior/at-risk patrons.
The library is going to look different for a while. Please keep in mind:
Masks are REQUIRED. Please help us comply with the law and protect our

most vulnerable patrons.

One can be provided, if needed.

All returned materials should be placed in the outdoor bookdrop so we can continue our quarantine procedures for staff/public safety.
No returns will be allowed inside.
This means items will not come off your account right away. Please give us a few days before letting us know we missed something.
There will be strict occupancy limits.
If we are full when you get here, you will be asked to wait outside.
There are no children's toys and seating is extremely limited.
We encourage folks to grab-and-go so we can serve as many people as safely possible.
Computer usage will be strictly limited to one hour.
We highly encourage you to work from a thumb drive to protect your work. There will be no time extensions. Computers available will also be spread out and limited.
Staff will be unable to provide one-on-one computer help
If you believe you will need assistance, please bring a friend or family member
We have a regular cleaning schedule, but it is easiest to keep everyone healthy if we avoid surfaces that are difficult to clean, so we encourage folks to browse as much as possible without touching.
6 foot social distancing is encouraged.
Additional Information
If you don't feel safe coming in person, our digital checkouts. are still available

There is extremely limited seating indoors, but Wi-fi will reach your car in the parking lot.

We are not accepting interlibrary loans until further notice.
No donations, please.
For the foreseeable future, all programming will be held online. Check out our calendar for a list of online events, and the Summer Learning page for all the correct links.
Thank you for being patient with us while we figure out how to navigate this unprecedented time. If you have questions, suggestions, or needs, email us at
librarian@loganlibrary.org
Online resources for reliable information about COVID-19
World Health Organization (WHO)
Centers for Disease Control and Prevention (CDC)
Barren River District Health Department
KY Cabinet for Health and Family Services: COVID-19
National Foundation for Infectious Diseases 
Unemployment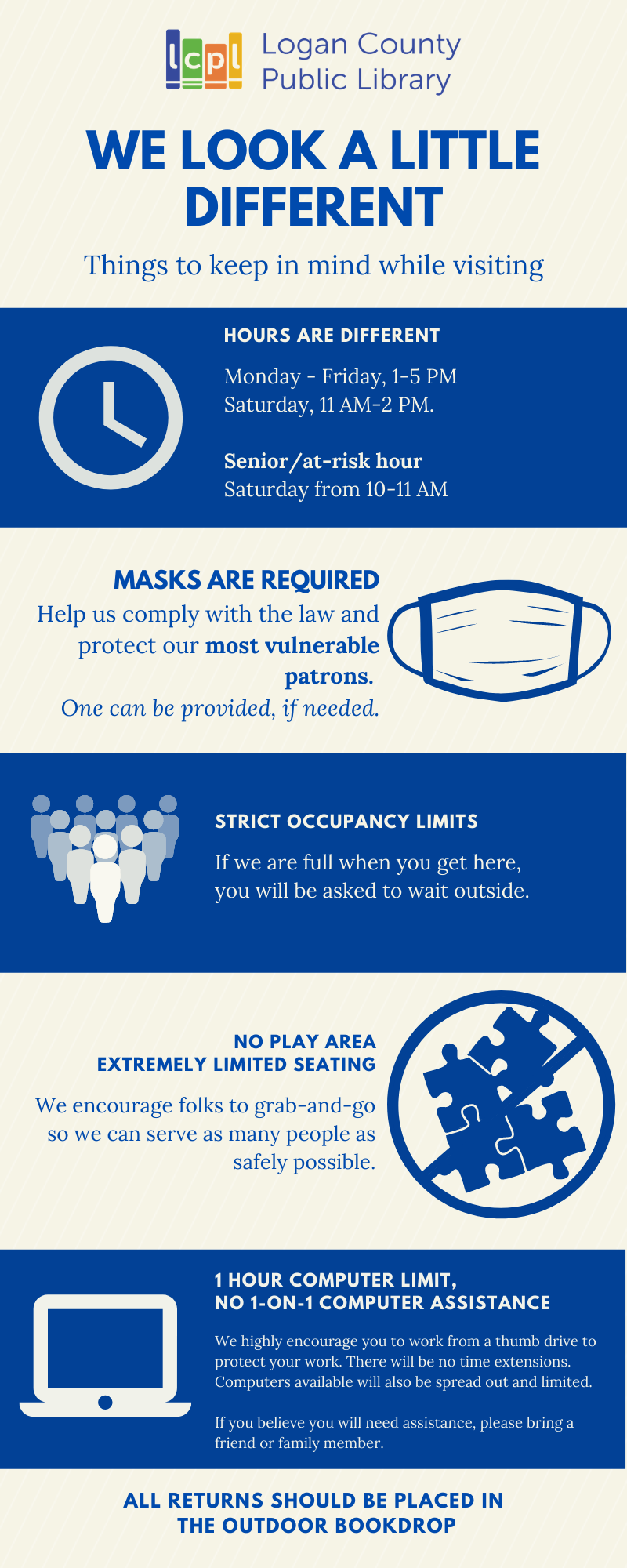 COVID-19 FAQs